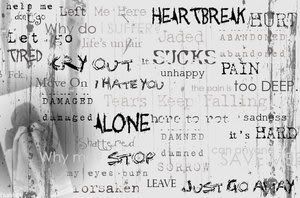 Psalm 139:14 NIV
I praise you because I am fearfully and wonderfully made;
your works are wonderful,
I know that full well.
Psalm 139:13-16 The Message
Oh yes, you shaped me first inside, then out;
you formed me in my mother's womb.
I thank you, High God—you're breathtaking!
Body and soul, I am marvelously made!
I worship in adoration—what a creation!
You know me inside and out,
you know every bone in my body;
You know exactly how I was made, bit by bit,
how I was sculpted from nothing into something.
Like an open book, you watched me grow from conception to birth;
all the stages of my life were spread out before you,
The days of my life all prepared
before I'd even lived one day.
Okay, so I'll admit. I was watching
Dr. Phil
the other day. Don't tune out yet...
In all seriousness, the show was about men and women whose lives had been destroyed by childhood bullying.
It was sobering to see adults in their 30's and 40's, carrying around the wounds of their past. Memories still fresh in their minds, haunting them and bringing tears to their eyes.
Words, simple words, that had shaped their identities and their worth.
At first it can be difficult to understand how mature adults can carry around childhood experiences in such a significant way. It's hard to understand how these seemingly meaningless events could have such weight in a person's life.
But the reality is, childhood is a significant period of our lives.
Children are born as blank slates- ready to take in whatever the world has to offer them. I think of them like a white canvas, taking on the colors and the textures of everything and everyone they come into contact with. For the lucky ones, they can go home to a safe place where the bad colors can be washed off and replaced with true beauty. But for many others- this filtering process is not available in their home due to brokenness and sin. So, they take in whatever words are thrown at them- whether true or false.
These words are internalized, and eventually, become the constant voice playing in their mind, reminding them of "who they are".
There are many men and women walking around with false voices playing in their heads...voices of shame, of guilt, of fear. Voices that bring false accusations. Voices that steal beauty and joy. Voices that declare brokenness, stupidity, and worthlessness.
My heart goes out to these men and women.
My heart goes out to them because there is a piece of them in all of us.
At some point, we have all experienced the pain of lies that have made a home in our hearts. We have all let these false doctrines slip into our minds- bypassing the filtering system that God has given us to sort out the fantasy from the reality.
And all of us share one thing in common: a need for redemption. A need for the redemption of our hearts and minds. Redemption of our self-worth and our value.
A need for God to step in and help us sort out the jumbled mess of our identities.
To take back what has been won over by the Prince of Lies. To reinstall in us a filtering system- allowing only His truth to pass through and enter in.
This takes hard work. For some, this work can be done through their personal willingness coupled with the power of the Holy Spirit, and for others the words may have sunk in so deep that they need professional help sorting through. But either way, there is a place to begin- and that place is in God's truth.
These verses are found in the middle of the bible...because in my opinion, they are central to the needs of men and women across all race and ages.
The need for value. The need to be known. The need to be praised and adored. God knows these things, and he takes each need one by one...offering it in bold colors and coloring over the canvas of shame with this beautiful truth.
Take these words one by one, and allow the brush strokes of God's words to wash over the pain of your past.
This is reality. This is truth. May it color over every part of your broken canvas today....