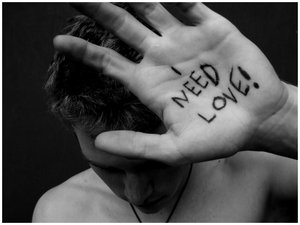 1 John 4:18
"There is no fear in love. But perfect love drives out fear..."
I was having a conversation today about the stark difference of being in love and being in need.
When you really get down to the roots of each kind of love, they are unmistakably polar opposites, although from the outside in they may appear the same.
There are many who believe that they have fallen in love, only to realize that this love is purely based on need.
A need to be wanted, to be valued, to be affirmed. A need to be taken care of, to be nurtured, to be safe. Need-love drives you toward another out of your disparity. It binds you together by its codependency and unites you in its fear. It takes two empty people, and fools them into thinking that they can fill one another up. But in the end, fulfillment never comes. In the end, their desperate needs cause them to feel more and more depleted. In the end, their needs grow even greater in the shadow of a false and dying love.
True love is never based on need, it is birthed out of covenant.
It is founded in commitment. It's a love that speaks permanence and unconditional positive regard because it's a love that is based on choice. It loves even when it doesn't feel like loving, and gives until it can give no more. It loves the one before it because of who they are, yet continues to love because of who it is. It is an unrelenting, passionate, fierce and growing love that simply loves for the sake of loving...a love that loves to love, rather than a love that loves to be loved.
It is a love that offers something not a love that only takes.
It is a love that wants nothing from the other but the opportunity to love them better.
True love is a reflection of a God who truly loved...completely, wholly, perfectly.
But it is a love that can be found here on earth, in glimpses, in moments...moments of sheer bliss, utter selflessness. It is a love that reminds us of the Source of our perfect love. And points us back to Him for more. The Perfect love that casts out all fears, all doubts, and all needs.
Because only in Him can our needs be met...and only then, are we free to truly love...
Lord, help me to love in this way...