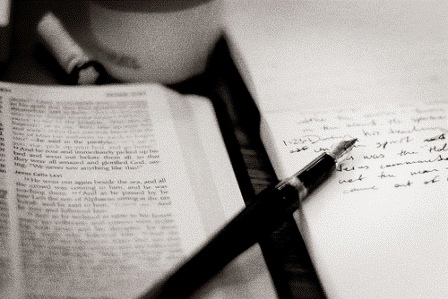 John 15:5
I am the vine; you are the branches. If a man remains in me and I in him, he will bear much fruit; apart from me you can do nothing.
This season of Lent has been an important time for me to learn to "remain" in Jesus. Personally, I find that it's easy to make my way through life not realizing that I have pushed God into a little corner of my heart, going to visit Him during quiet times and Sunday mornings.
I forget the truth of this passage, the truth that I can do nothing apart from Him...until my life spins so out of control that I am desperate for God's hand to touch it. I don't want to get to that point before I learn to turn my eyes to Jesus.
A speaker that I heard yesterday said something that stuck with me. She spoke of a dear friend who was going through some significant struggles in her life. She asked her friend "How are you getting through this season in your life without going crazy?" To which her friend simply replied: "I'm snorting scripture".
And she was. It sounds kind of funny, but the reality is, if you're going to snort something....Scripture is the way to go. Practically speaking, this woman was making sure to eat, breath, sleep, live God's word, because she knew it was the only way to remain in Him and allow His word to penetrate her life beyond her struggles. She read throughout the day and when she didn't have the strength, she had others read it to her.
This season of your life, whether struggle or victory, may God give you the motivation to soak up His presence and His Word. May He give you the concentration to say no to distractions and say yes to Him. May He give you the discipline to continually choose to remain in Him as you seek to find sanity and peace.
"Listen less to your own thoughts and more to God's thoughts."
--
François Fénelon